PARENTS, and PARENTS OF BASKETBALL PLAYERS AND CHEERLEADERS: Parent Teacher Conferences will be this Thursday, September 22 from 3:30-7:00. You may enter through the gym lobby doors. Report cards may be picked up in the high school library. Teachers will be in their classrooms. Mr. Cook and Coach Gardner both drive a bus, so they will not be available until around 4:30. Hope to see you then!! PARENTS of BASKETBALL PLAYERS AND CHEERLEADERS: There will be a mandatory parent meeting this night as well. It will be at 6:00 in the high school gym. We need both parents or both legal guardians to be present. We will be discussing things such as the new shot clock, behavior at games, and we have some paperwork we need you to sign. If you are unable to attend at this time, please notify Mr. Robinson at 870-597-2723 or
srobinson@marmadukeschool.com
to arrange a different time. Remember, we need both parents or legal guardians to attend.

Elementary Supply List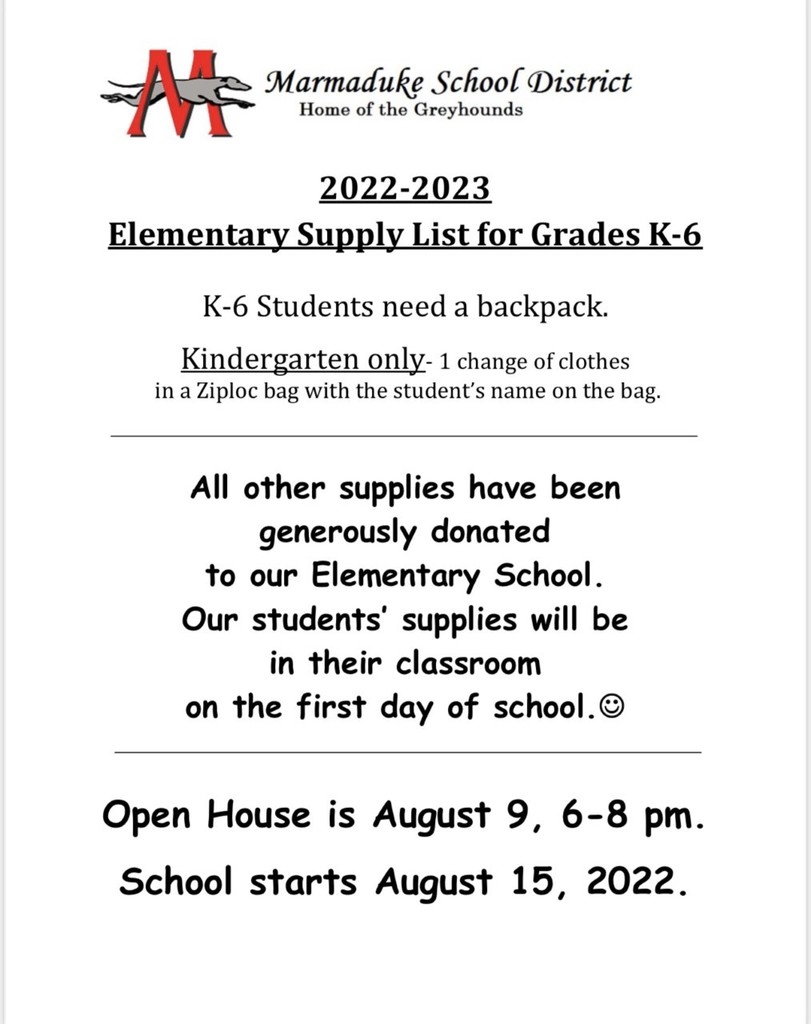 Just a reminder that the Preschool & Cafeteria are closed this week. They will re-open next Monday, 7/11. Have a great week!

Congratulations to the Boys Swim team on being Conference Champs of the 1A-4A East District Swim Meet. Nathanael Adams placed 1st in the 50 Meter Freestyle and the 100 Meter Freestyle. This success also earned him All-Conference in those events. Riley Benson placed 1st in the 100 Meter Backstroke and 2nd in the 50 Meter Freestyle. He too earned All-Conference in those events as well. Riley Parker swam really well in the 50 Meter Freestyle, scoring 13 points for the team. Great Job Swim Team!!! Coach Traci Foster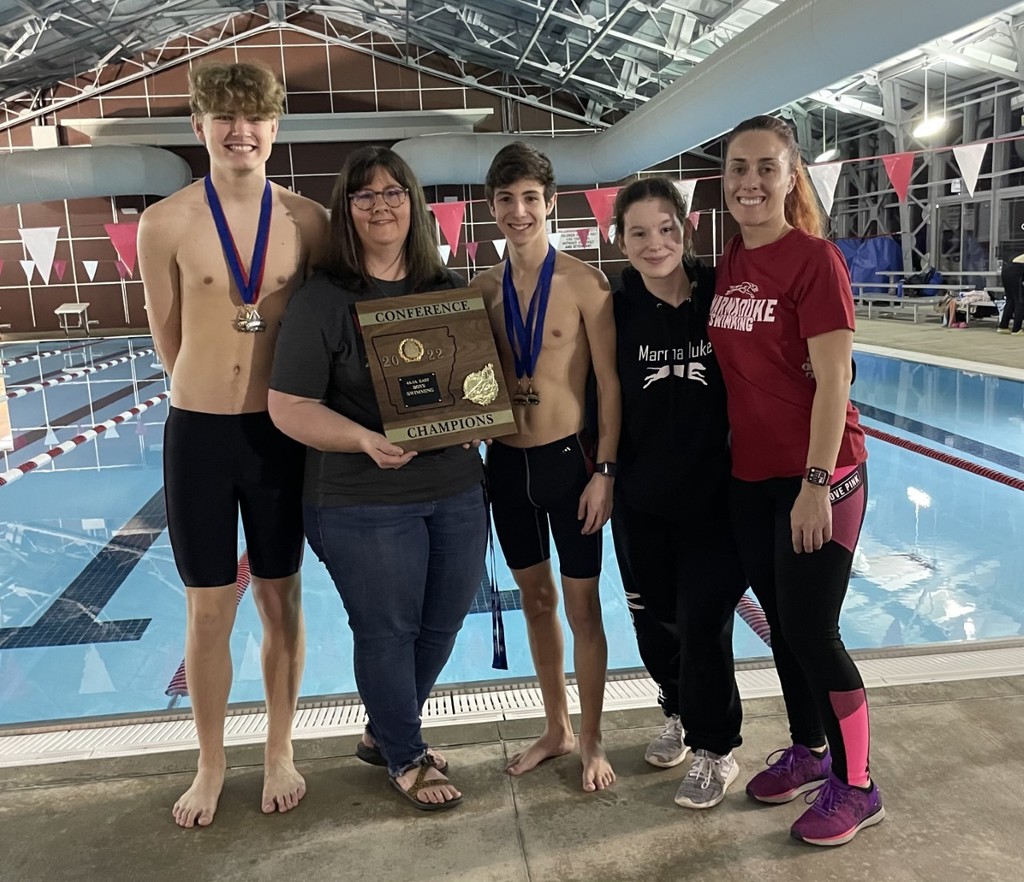 Kindergarten Pre-Registration for the 2022-2023 school year will be held on Thursday, March 17, 2022 from 8:15 a.m. until 2:30 p.m. Registration will take place in the School Saferoom on the north side of the buildings. If you need additional information please call the Elementary Office at 870-597-2711.

NEW Covid-19 Guidelines 2/1/22 After careful consideration and review of Governor Hutchinson's statement today, the Marmaduke School District has made the decision to change our Covid-19 guidelines to the following: • If an individual tests positive, they will need to isolate for a minimum of five (5) days and they are permitted to return on day six (6) with a mask (worn appropriately at all times) for the remainder of their ten (10) day isolation period. Preschool students who test positive will continue to isolate for ten (10) days. • If a student is considered a probable close contact (PCC), their parents will be contacted so they may monitor for symptoms. Should they develop symptoms, they are to stay home and get tested at an appropriate time. Individuals who are considered as possible close contacts (PCCs), but who do not have symptoms, will no longer be immediately quarantined. This approach aligns with long-standing practices and policies that districts have used when responding to other contagious diseases. We will continue to focus on mitigation strategies and practices that have worked in our district so far. This will include social distancing, isolating positive cases, and additional cleaning and disinfecting. We will also continue to monitor positive case numbers and update the Board each week in case a change is needed. Thank you for your support and patience during these trying times. They have been difficult. And yet, we've endured, together. As always, we endeavor to provide the greatest education possible for our students.

WE ARE READY! LET THE 2021-2022 SCHOOL YEAR BEGIN! First day of school will be this coming Monday, August 16th. We encourage all parents to check out the latest Return to Learning Plan located on our website. You can find this updated plan under the MENU tab. This plan has procedures that will be in place to keep our students safe while we provide them the excellent educational experiences that they deserve. We will be keeping a close eye on current health conditions and making adjustments as needed. We will post any changes on our website, Facebook pages, and our app. Be sure to check these social media platforms often.

There are two new documents have been placed in the Parents section of the District website. These are information letters from our Superintendent, Mr. Keith Richey. Please read these when you have a chance. ​

School Supply Lists for Grades 3 through 6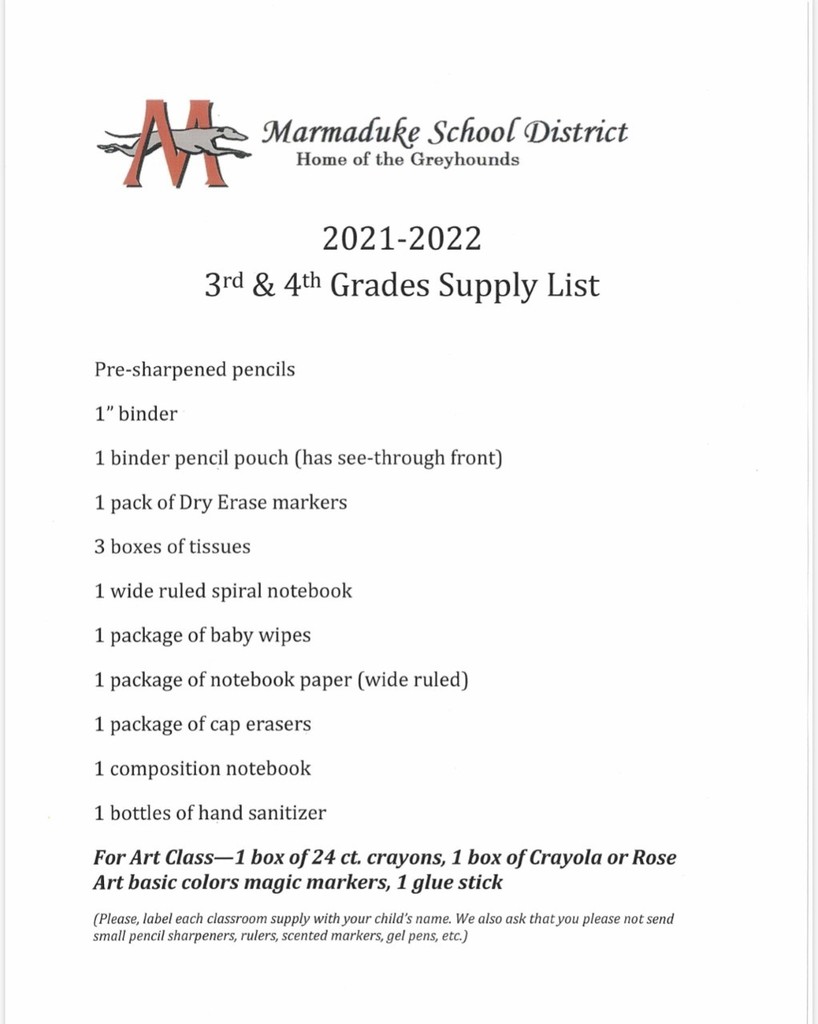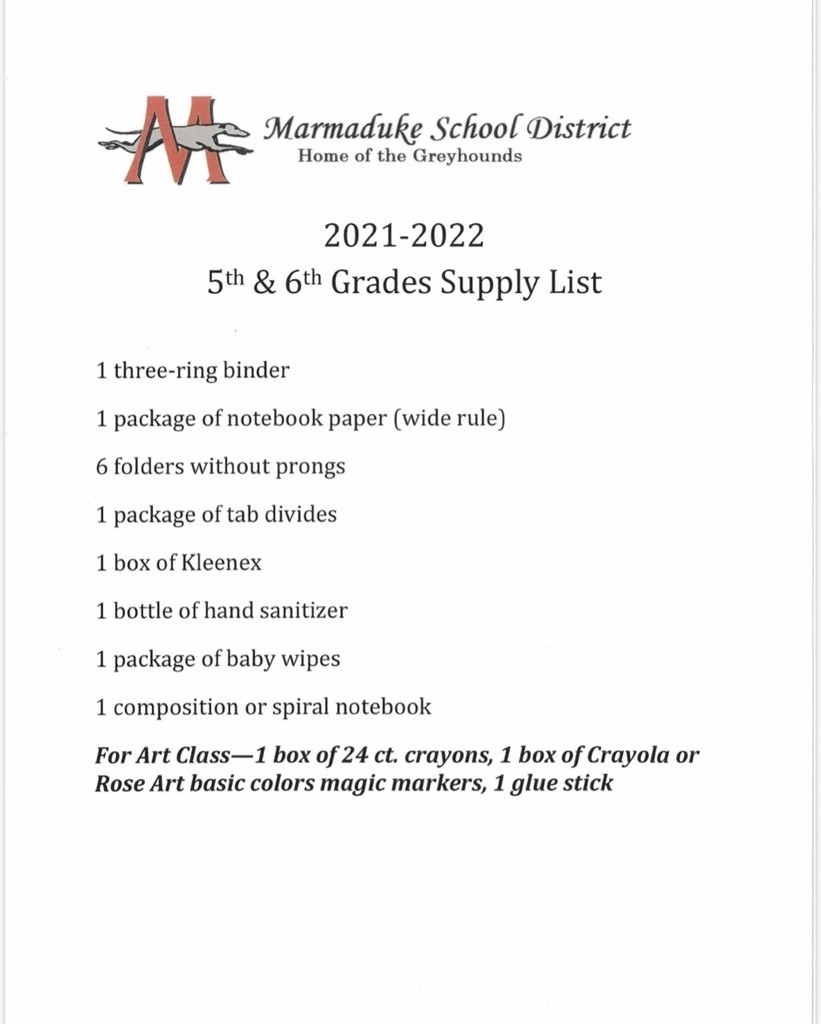 School Supply Lists for Kindergarten through 2nd Grade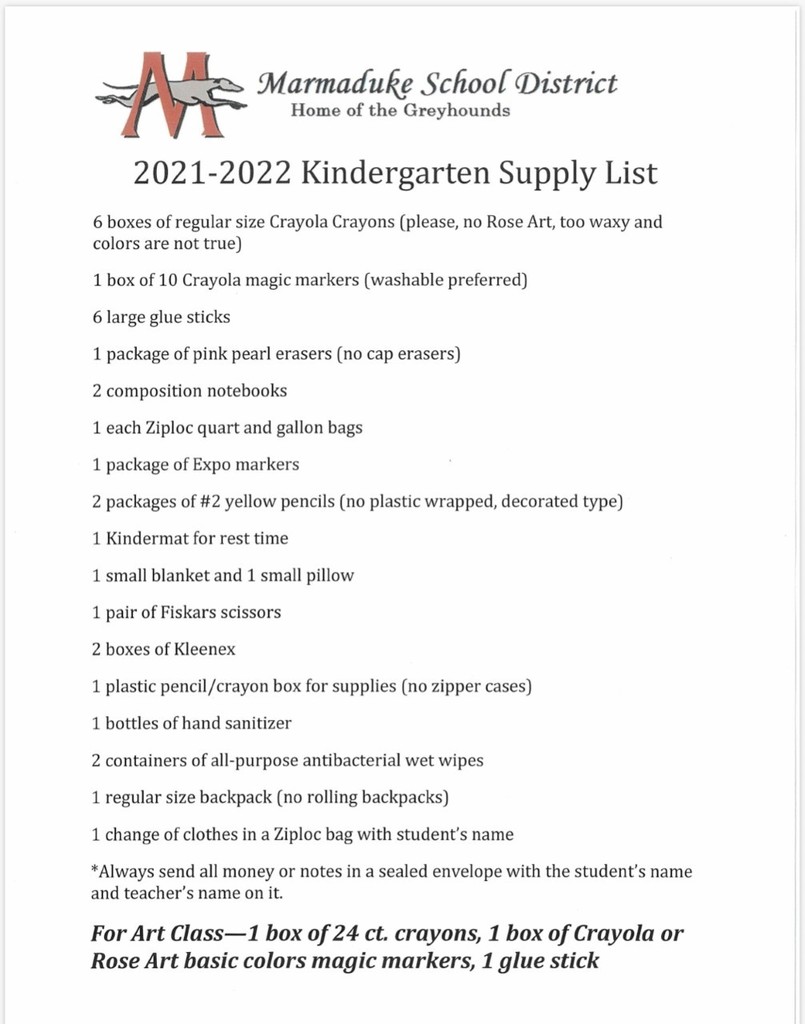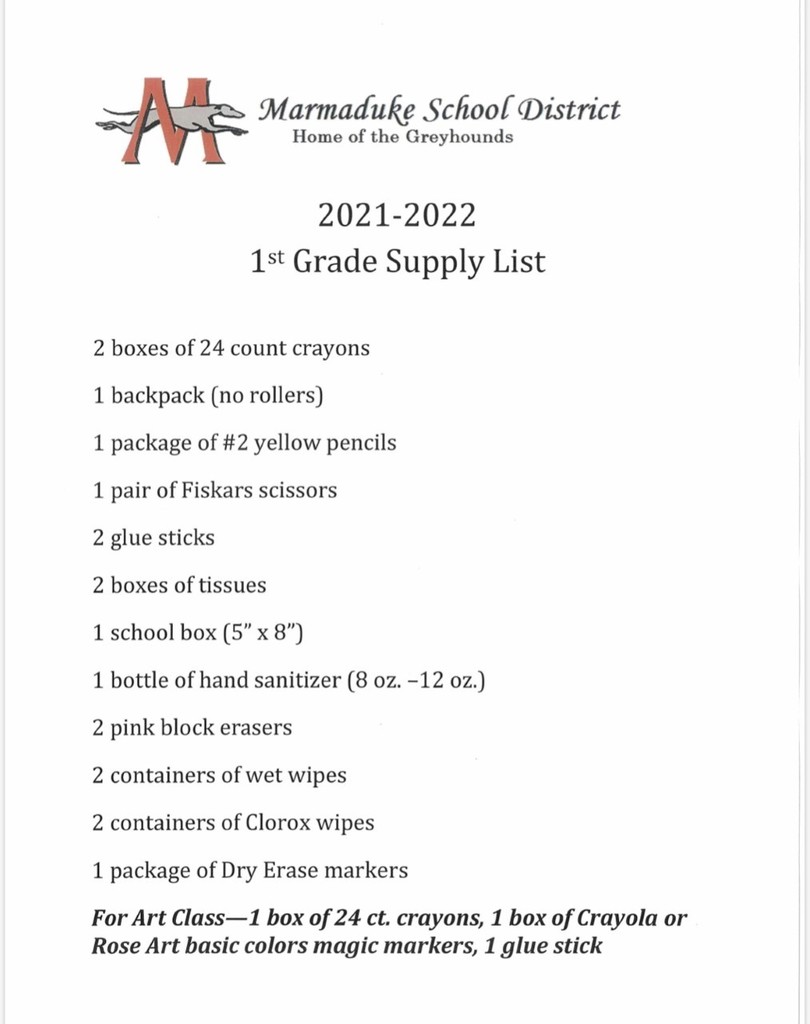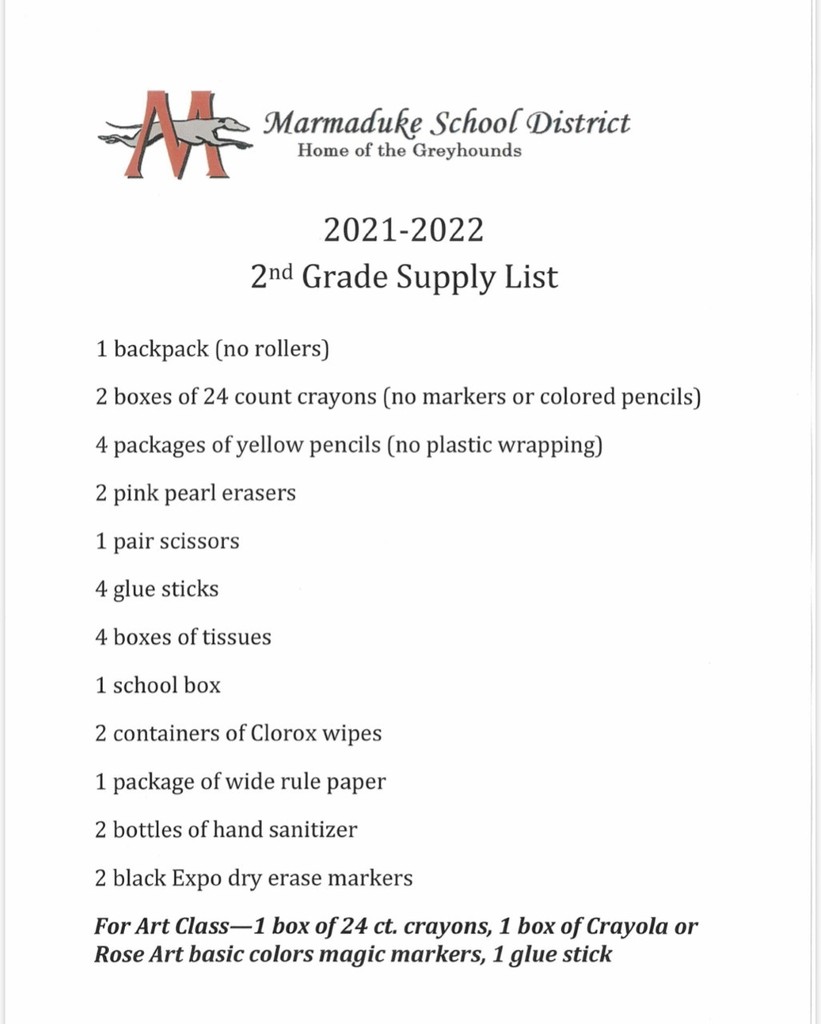 Good Morning! Just a reminder that the Marmaduke School District (as well as the Preschool) will be open this Friday, (April 2nd). The employees voted to take April 16th in lieu of Good Friday as a spring day off. We will be closed on Friday, April 16th! Thanks and please continue to stay safe!

Good Morning. We want to let everyone know that we are keeping a very close eye on the weather today. Should we see the need to move the students to safe room, we will not allow students to leave or be checked out during this time. Once the weather has passed, we will return to our normal routines. It is also a possibility that the weather could impact us at our normal end of the school day. If this is the case, then we will hold the students until it is safe to run the busses and to dismiss the car riders. The safety of our children is always our number one priority!

The school board meeting scheduled for March 8 is postponed until March 9 at 6:00pm.

Here is the link to purchase tickets for the girls' regional tournament basketball game against Carlisle at Rector High School on Wednesday, March 3rd at 10:00am. This link will be good until Tuesday, March 2nd at 3:00pm.
https://gofan.co/app/events/247730
This link is our school link for our fans. With the good news that the AAA is now allowing 50% capacity for the games, we are now allotted 325 tickets instead of 200. This link will be good until Tuesday, March 2nd at 3:00pm. At that time, any unsold tickets will be open to the general public, including the opponent. You must use the link below to purchase tickets if it's after Tuesday at 3:00pm.
https://gofan.co/app/school/AAA
If you try to purchase any and it says the event is sold out, please wait until Tuesday at 3:00pm. Any of the 325 tickets that Carlisle was allotted that they did not purchase will be open to purchase. Let's buy all the tickets we can and come out and support the Lady Greyhounds as they try to punch their ticket to the State Tournament.

The Marmaduke School District (and Preschool) will be closed tomorrow, 2/16, due to inclement weather. This will be a virtual day for our students.

The Marmaduke School District (including the Preschool) will be closed tomorrow, 2/12, due to the continued weather and road conditions. This will be a virtual learning day. The District and Preschool will be closed on Monday, 2/15, in observance of Presidents Day. This is not a virtual day. We hope to return to school on Tuesday, 2/16. However, we will continue to monitor the weather. Be safe!

Due to the hazardous weather and potential road conditions, the Marmaduke School District will be using virtual learning tomorrow, 2/11. Students will not be on campus. Please stay safe!

Due to the potential hazardous weather, the Marmaduke School District will be using a virtual learning day today.

MSD Reminder: Tomorrow (1/18) is a virtual day for grades K-12. Preschool will be open. Sack lunches (K-12) will be served from 11-12 at the H.S. Pavilion. Enjoy the day & stay safe!

First and foremost, everyone is safe! A Marmaduke School District student received an anonymous bomb threat by text message at approximately 12:00 p.m. on January 8, 2021. Safety protocols were immediately put into place and within minutes a student was identified and quickly admitted that they were trying to make a joke. Law enforcement conducted a precautionary sweep of the building. Regular school activities have resumed, and there is no threat of danger to the district's students or staff. The district takes all threats of violence seriously, and this matter will be handled in accordance with the student handbook.